Punta Gorda is home to two parks, both located on opposite ends of the town, with two entirely different feels.
So no matter the type of tourist you are, you're sure to enjoy at least one to spend some leisure-time in.
Gilchrist Park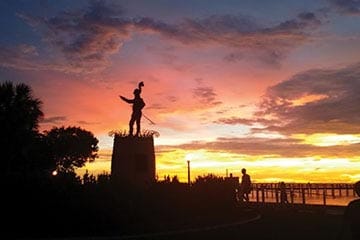 The first park to be added to Punta Gorda, Gilchrist Park is right on the south-west coast of the peace river, giving you a great view of the boats, and town of Port Charlotte right across. Gilchrist Park is also home to an incredible statue and fountain of Ponce De Leon, a late 17th-century explorer who landed in Charlotte harbor, and eventually led the colonization of this town.
It's not uncommon for kids to throw quarters in the fountain, and for tourists to be taking lots of photos. Continuing to walk down the main sidewalk leading through the park, you can pass multiple boardwalks, a tennis court, and even a children's playground. One that many young residents of Punta Gorda remember playing in when they were younger. Continuing the path out of the park, will actually lead to Fisherman's Village. After all, Punta Gorda's downtown area is rather compact.
Lashley Park
But, if you're looking for something a little more refreshing, then Lashley Park is for you!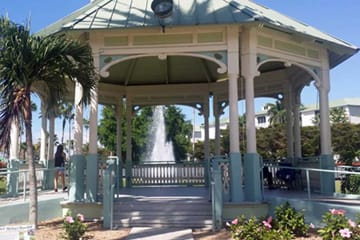 Located just across the bridge horizontally on the same coast as Gilchrist is our town's second lovely park. This park has a nature walk, big empty grass fields for picnics, and many more features that make it stand out as another one of Punta Gorda's must-go places! Lashley park has a very distinct feature that sets it apart from most parks, and thats its circular ground spray play area, located towards the side of the park.
It's not uncommon to see children playing in the water jets while their parents watch and take photos, and during a hot summer day, sometimes a refresher like that is just what you need! But if thats not enough to make it distinct, Lashley park also contains a large memorial to the lives lost in Hurricane Charley.
This 14-foot bronze statue of a palm tree being blasted by wind, shows just how destructive the hurricane that hit this town 16 years ago was, and the impact it still has to this day. And, just as a cherry on top, Lashley park is adjacent to a large boardwalk-styled complex that sells everything from ice cream to fishing gear, and even has a full, upscale restaurant on the upper floor, Lashley Crab Shack.
All in all, whether you're looking for leisure or refreshment, at least one of Punta Gorda's parks will be well-suited for your needs, and guaranteed to provide a fun, relaxing evening!