If you happen to be walking around downtown Punta Gorda on a Saturday, you may just have a chance of running into the best farmers market in Florida, the Punta Gorda Farmers Market.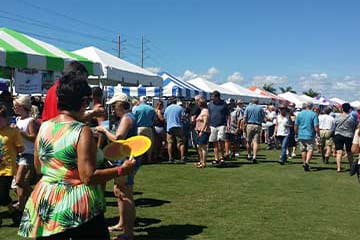 Open Every Saturday
October - April, 8am to 1pm
May - September, 8am to 12pm (noon)
And that wasn't an exaggeration either! In fact, our town's farmers market got awarded "Best Small Market in Florida", and "15th Best Small Market in US". Which is no small feat!
The Punta Gorda Farmers Market has everything from dried berries, nuts, fruits, vegetables, jewelry, pastries, pasta, fish, you name it! If it can be locally sourced, it'll be at the Punta Gorda Farmers Market!
On the Saturdays when the market is being run, downtown Punta Gorda is taken up by booths, and while navigating in a car during this time can be tricky, the town has plenty of detours set up. But why go anywhere else when you've got such an incredible diversity of local products, brought right from the source!
The Punta Gorda Farmers Market is an absolute joy, and if you live in the area, and think you've got something people will love, whether it be homemade jewelry or farm fresh eggs, why not come on out?